To change the appearance of the page, edit the styles of the corresponding elements (in most cases by using the "Main Frame" Style Zone).

To change the menu's links: edit, copy-paste, or delete the Link Elements within.

To hide an element without deleting it, use its property

Visible

.

The Normandy landings, codenamed Operation Neptune, were the landing operation of the Allied invasion of Normandy in Operation Overlord, during World War Two. The landings took place on Tuesday 6th of June 1944, (D-Day) starting at 06:30am.

The operation included two phases: an airborne assault landing and an amphibious landing which was the largest amphibious invasion in world history and was executed under direct Anglo-American command including, Americans, British, Canadians and a French Commando.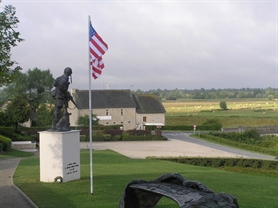 About 5000 ships were involved. The landings took place along the Normandy coast divided into five sectors: Utah, Omaha, Gold, Juno and Sword.


Our tour includes the American sector beaches and Airborne drop zones like Sainte-Mere-Eglise and Sainte-Marie-Du-Mont. The visit can be extended (3rd day) to the British sector.


To "activate" displaying of an arrow, use its property "Visible"

We propose two to three days of visit.
For more of information and prices, contact us.